Official Information CSPA 2021 Skydiving Nationals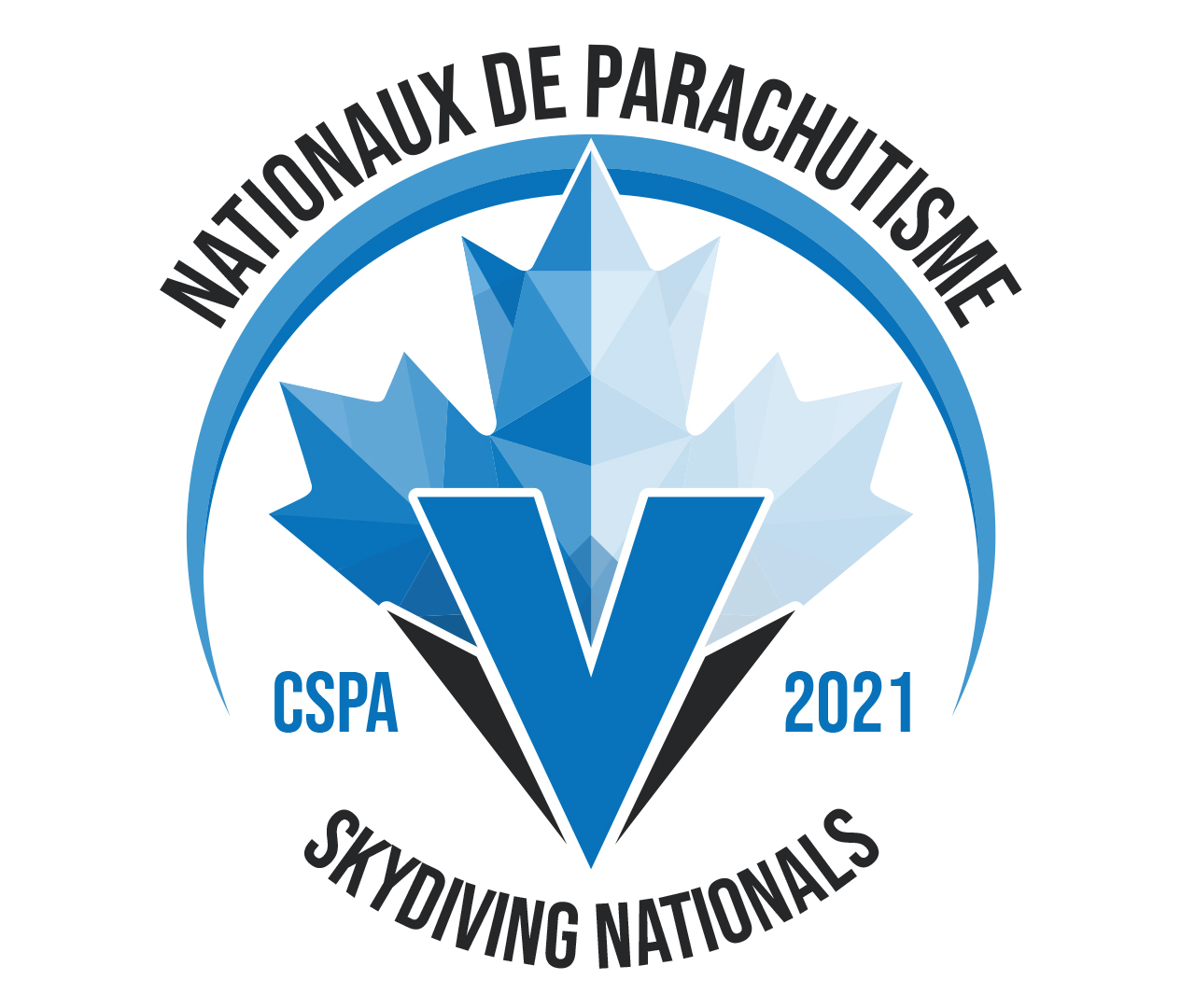 Event Organizers
NAC
Aero Club of Canada

1710 Hickey Road Apt 506, Bldg 5

Saint John, NB E2J 3S6

Tel: 1-506-658-9059

Email: info@aeroclubofcanada.ca
National Parachute Federation
Canadian Sport Parachuting Association

204 – 1468 Laurier Street

Rockland, ON K4K 1C7

Tel: 1-613-419-0908

Contact person: Michelle Matte-Stotyn
1.Event Organizers
Parachute Voltige

4680 rue Principale

Notre-Dame-de-Lourdes, QC, J0K 1K0

Tel: 1-450-752-0385

Contact person: Valérie Bisson
2.Aims of the 2021 CSPA Canadian skydiving championships
To determine the Canadian Champions in each discipline
To determine the national team who will be representing CSPA at the 2022 World Skydiving Championships (Eloy, USA)
To establish new National Records
To promote safety and develop competition enthusiasm amongst canadian skydivers
To exchange ideas and strengthen friendly relations between sport parachutists, judges and support personnel of Canada.
To allow participants to share and exchange experience, knowledge, and information.
To improve judging methods and practices
3.Event Officials
Meet Director – Marcel Faguy
Chief Judge – Vera Asquith
Chair of CNTC – Barb Davies
Chair of Judges Comm. – Randy Holmes
4.Event Time Schedule
The following schedule is a general idea of the competition timeline. The detailed schedule will be made available shortly.
July 10th, 2021 (Saturday) : Arrival of Judges, Judges' Conference, Registration and Official practice jumps. Some competitors' briefing could be held in the evening as well as some competition draws.
July 11th to July 16th, 2021 (Sunday – Friday): Competition Jumps
July 17th, 2021 (Saturday): End of competition at 2 pm (last take off), Closing ceremony (if allowed by the Public Health recommendations, to be confirmed)
July 18th, 2021 (Sunday): Departure of competitors and judges.
5.Location
4680 rue Principale
Notre-Dame-de-Lourdes, QC J0K 1K0
Dropzone is located in Notre-Dame-de-Lourdes, Joliette with a population of 2 600, which is located 65km northeast of Montreal, Canada
Located on private airport of Lourdes-de-Joliette , CSE3
Elevation: 350 feet
Latitude: N46 06 34
Longitude: W73 27 10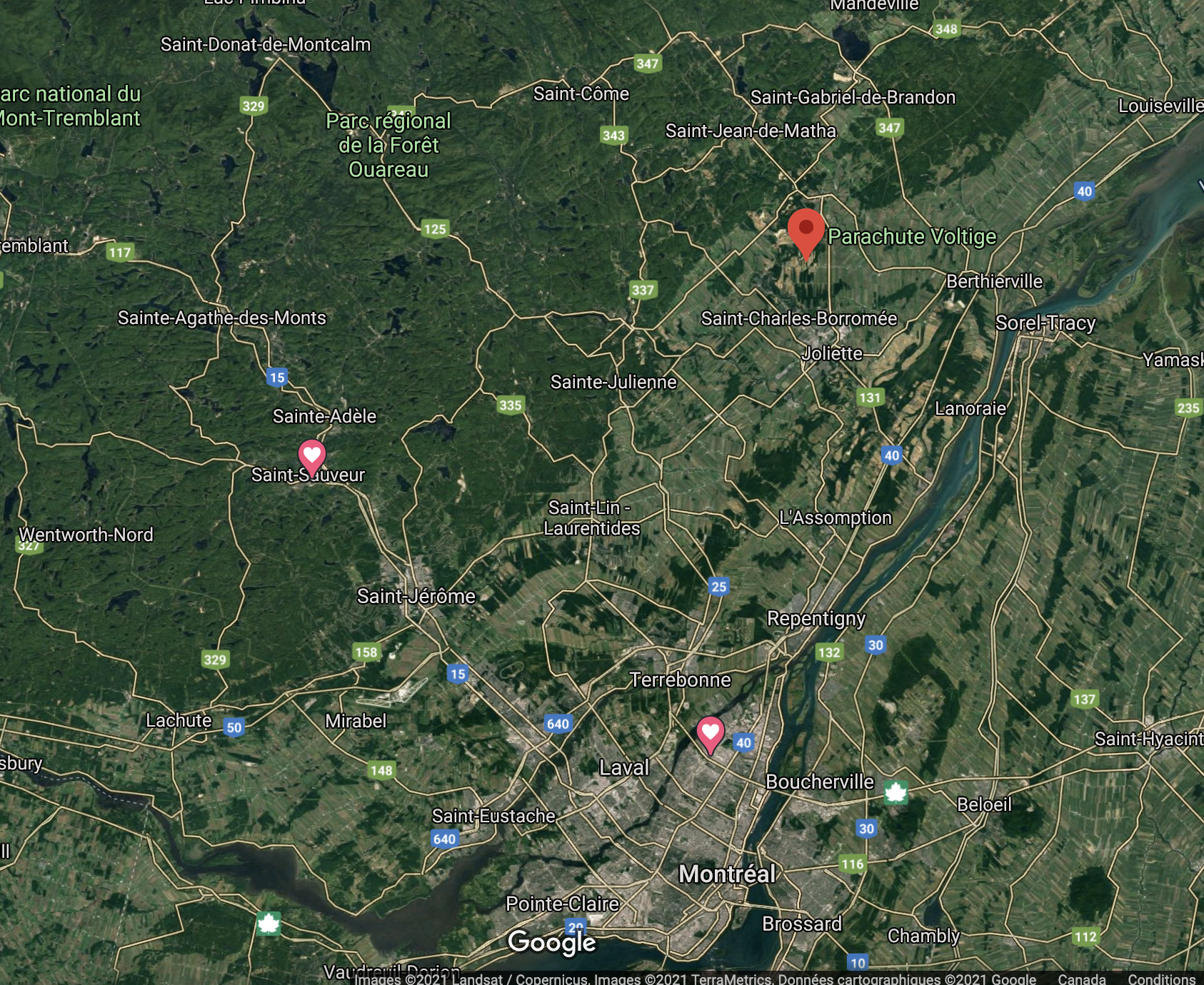 6.Transportation
Recommended airport to fly in and out:
Montreal-Trudeau International (YUL) – 91 km from DZ
7.Weather
Average temperature: DAYTIME : 25°C NIGHTIME : 14°C
Average wind speed: 4-13kts (2-6m/s) West/South-West direction
Sunshine: 70% Rain: 15%
Sunrise: 5:17 am Sunset: 20:41
8. Entry Fees
Registration fees will be 150$ plus taxes per participant if registration is done before 1 month prior to the competition (June 10th, 2021) and 165$ plus taxes after that deadline, regardless of how many disciplines are competed in.
Entry Fees for Participants include:
– On site organisation
– Souvenir garment
As per Public Health recommendations, a closing ceremony and banket is not organized for this nationals. In the event of recommendations changing leading to the competition, an update will be made and banket tickets would be sold during the competition.
Event entry fees per individual are as follow (not included in registration fees). Please note that discounted bulk jumps will not be accepted during Nationals.
All categories listed in PIM 4A for the above disciplines will be open for registration and competition will be held provided sufficient number of competitors after registration (2 teams or competitors).
Selection events will get priority over non-selection events, which may not be held based on weather or time constraints. Non-selection events include: Style, Sport Accuracy, 8-way CF and 10-way Speed Star.
As per 2018 CNTC decision, Style is not included in the selection events. Parachute Voltige will NOT arrange for the judging equipment to be on site. If competitors take the necessary arrangement for the judging system to be on site, with advance notice, Voltige can accommodate them for competing.
9.DZ Facilities
-Full-time DZ facilities

-Air-conditioned administrative building

-Packing area (30 x 50 feet) and tent for packing ( 20 x 60 feet)

-200 x 400 feet grass landing area

-2700ft gravel runway (Please call us before for clearance to land)

-Office space for Officials with Air-conditioned

-Parking available

-Bathrooms and 2 showers

-Wi-Fi connectivity

-Rigging services

-On-site café, beverages and snacks

-Observation area

-Camping available

-RV parking (no services)
10.Aircraft
Twin Otter DHC-6

Left door

Exit Speed: 85-90kts

Cessna Grand Caravan Blackhawk ( C208B )

Left door

Exit speed: 80-85kts
11.Pre-Event Training
Dropzone open for jumping and training from May 1st, 2021.
30$ CAD per ticket – 5000ft
39$ CAD per ticket – 13500 ft
** Practice jumps are NOT INCLUDED in the entry fees **
12.Accommodation
We recommend all participants that plan to stay in a hotel to make their reservation as soon as possible. Many of the hotels on this list have a cancellation protocol in place in case of new travel regulations because of Covid-19.
HOTELS LIST:
In Joliette ( 15 min) :
A) – Hotel Château Joliette – 450-752-2525
Adress : 450 Rue Saint Thomas, Joliette, QC J6E 3R1
– 20 % off the regular price when using the code : Voltige-Nationaux parachute
B) – Motel Le Classique – 450-756-0588
Adress : 310 Rue de la Visitation, Saint-Charles-Borromée, QC J6E 4N7
In Berthierville ( 20 min ) :
C) – Days Inn – 450-836-1621
Adress : 760 Rue Gadoury, Berthierville, QC J0K 1A0
– 15 % off all the regular prices when mentioning Parachute Voltige and Nationals Canadian Parachuting Championships.
13.Equipment
– AADs are mandatory for all jumpers except for Canopy Formation and Classic Acuracy
– Helmets are mandatory for all jumpers
14.Medical Facilities
– Rescuers on site
– Hospital within 18 minutes drive
Centre Hospitalier de Lanaudière

1000 Boulevard Sainte-Anne,

Saint-Charles-Borromée,QC

J6E 6J2

12 km to Competition Site
15.Registration Form / Payment
Registration will be opened on April 1th, 2021, on the Voltige website. Registration fees will be 150$ plus taxes per participant if registration is done before 1 month prior to the competition (June 10th, 2021) and 165$ plus taxes after that deadline, regardless of how many disciplines are competed in.
Registration will remain open up until 30 min before the start of each event but the organisation comity strongly recommends that competitors register early on.
16.Rules
Rules for each event are available on PIM's 4B available on the CSPA'S website.